Frames
---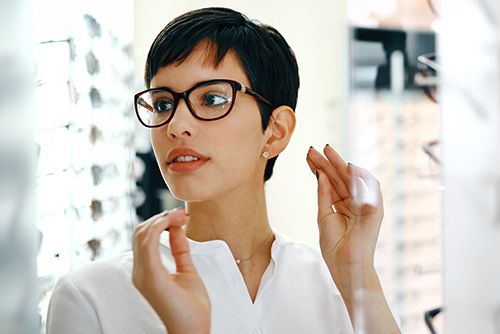 Vision Center offers the latest in high-end frames options as well as budget-conscious frames such as Cartier, Oakley, Coach, Bebe, Calvin Klein, Fred, Thiery Larsy. For those sports players looking to improve their vision be sure to check out our Rec Specs sports glasses. We also carry Miraflex, a flexible plastic specialty frame for infants and small children.
Glasses say so much about your personality and personal style. At Vision Center, we are happy to work with you in selecting frames that complement your features. Our experienced optical professionals work closely with you to select the proper frames to fit your budget as well as your cosmetic, lifestyle, and vision needs. While working with our experienced staff enables you to select the appropriate frames, we invite you to learn more about which frame styles complement various face shapes.
Select Your Frames
After selecting the perfect frame we will fit you with the lens materials, coatings, and tints that are suitable to your personalized needs. Understanding the different lens options available will make sure you get the glasses that are right for you.
When selecting the material of your lenses you can decide between trivex, basic plastic CR39 or high index.
· Trivex is the highest quality lens material and it provides the best optical clarity. It is the thinnest lens material and scratch resistant. Trivex also provides more UV protection compared to basic plastic.
· Plastic CR39 is a very affordable lens and suited for people with light prescriptions. They are heavier, thicker and not as scratch resistant as trivex. CR39 lenses are NOT suitable for children under 18, people who depend on one eye, worried about safety or participate in impact sports.
· High Index lenses are a type of plastic that are suitable for patients with very high prescriptions. They are used to hide the edge thickness of lenses and are lighter weight than plastic but generally not as light weight as trivex.
All of our doctors highly recommend having a pair of sunglasses to each and every patient considering the amount of UV light exposure living in the Virgin Islands from infancy to the elderly. High amounts of ultraviolet light exposure over time can be a risk factor for eye problems such as pinguecula, pterygium, cataracts, macular degeneration, etc.
· Polarized lenses are permanently coated dark and do not change color. They are the best at reducing glare on light, horizontal surfaces such as sidewalks, sandy beaches, and sunlight reflections in the water.
· Transitions lenses, or photochromatic lenses turn dark when exposed to UV light outdoors but change to clear lenses when go back indoors. They do NOT turn dark while driving because the windshield in a car already as UV blocking materials.